Testimonials
Lotte & Steve: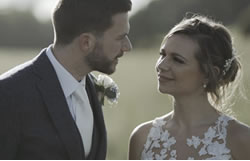 Hi Phil,
We just wanted to send you a little note regarding our experience of you as our wedding videographer on 14th June…
Although we had considered a video when we started our planning, we got some quotes and samples through but we weren't sure we liked exactly what we saw. These were things like, awkward moments with guests having being made to leave messages and a home movie style which most put us off.
When Kevin (who payed for the video as a gift) explained it would be a short film capturing more the feel of the day rather than a blow by blow home movie style, then we got intrigued and asked if he had any samples which he showed us next time we were round his. WOW we thought when we saw them!!!
Imagine our surprise when what he showed us, took us into the moment of someone else's love story and left us with a feeling of exactly how they felt about each other. From then on, we were pretty excited!
It can be daunting on your wedding day meeting a stranger for the first time whilst your in your PJ's with your bridesmaids having just rolled out of bed, let alone someone with a camera who would be watching you all morning. From the moment you opened that door, we felt at ease. All of us carried about our morning and after a few minutes, we almost became oblivious to your work that was going on, completely comfortable and it soon felt like we were around someone that we had known for a while. Likewise with our photographer being someone who always works alone we hoped the 2 of you would get along and again no worries needed, mostly down to yourself adapting, helping and just being really easy to get along with and the 2 of you worked in sync. Throughout the entire day we felt relaxed, mostly in our own little bubble and you never felt like an intrusion.
The teaser clip Kevin has sent us to watch from our sunbeds was incredible Phil!! From the first second of watching, we felt all the weight and emotion from that day come flooding back and it took us to a moment in time that we thought we couldn't relive in the same way…from the morning time where we could each see what the other was getting up to, to seeing our first moments together which was all so much more than we had hoped for and yet it isn't even the finished article!
Everytime you left the bridal room that morning and whenever we talked about you throughout the day, we couldn't stop saying what a lovely genuine guy you are which really goes a long way especially when your in such intimate moments with people you dont know.
Your work speaks for itself and you have an eye for much more than videography but who you are as a person goes a long way to the type of service you provide.
We cannot wait to see our finished film and share it with as many people that will let us!
Thank you doesn't seem enough but be assured that anyone who ever asks us about videography (or even those who dont) will be hearing everything we have just said about you.
PS. your kind words about Lotte's dress down in the fields will stay with her forever 😁
A massive thanks again Phil!!
Kind regards,
Steve & Lotte.
Nittan Sethi:
On behalf of the bride & groom and both sets of parents, we would like to express a huge thank you to Phil for such a beautiful capture of our special day celebrating the wedding of Shivani & Kushal.
It was a full day consisting of the civil ceremony, an Indian wedding, the wedding reception and a closing ceremony. Phil is a thorough professional and a gentleman. We are felt very comfortable around him as he is really easy going, accommodating and seamlessly managed to capture the mood of the day, with absolutely beautiful footage. Phil's brilliant service did not stop as he kept in close communication after the event to ensure that he delivered on what he had promised. We were not surprised to hear that he has just won yet another award: 'The Wedding Videographer of the Year 2020'
Jess & Bruce:
We were never going to have a videographer for our wedding. Not only are we pleased we now have an amazing video but we so happy we choose to go with Phil.
Phil is so professional and friendly. Most of the wedding day we were totally unaware he was there. He communicated with us in the lead up and after the wedding. Something which has been greatly appreciated.
The video is just amazing. We are so over the moon with it. It was for sure the best last minute decision we made! All of our family and friends are saying how great it is.
Not going to lie, it made me cry! It captures every emotion and we love how the story flows.
We can't thank you enough for the time and effort you have clearly put into this creation. We will treasure it forever.
We love how the shoes sparkled in the shot!
Thanks again Phil and for anyone not sure about having a videographer – do not hesitate!
A Maxwell:
Our wedding video by Philip far exceeded the standard of an event documentary, it was a movie starring us and our guests. Philip paid great attention to the composition and lighting, captured brilliant movements and emotions; he cared about our narrative and understood what we want. He was very responsive and easy to communicate; I loved bouncing ideas with him and was amazed by his artistic flares. In the end, every shot was well choreographed and every detail was cared for. It's so beautiful.
D Gilette:
Phil was an amazing addition to our wedding. Throughout the day he made us feel at ease and fitted into every situation seamlessly. The constant updates about our video progress were so helpful and the quality of the footage he has sent over is simply breathtaking. Cannot recommend him enough.
J & J:
Philip was absolutely amazing. Guiding us throughout the entire process and offering brilliant suggestions which not only made our video perfect, but also helped make our special day even better.
M Lampkin:
Philip London was so professional, patient and did a very beautiful, well produced video that everyone who attended and were part of the wedding loved his production.