Landmark Hotel Wedding London
Just back from an amazing wedding in London at the Landmark Hotel.
Why did you decide on a wedding video with Philip London:
We wanted to remember the special day and all of the people we had there to celebrate. To show older family members who were too old to travel for the celebrations and to show future family members who are yet to be born.I did a lot of google searching and needed someone who could provide cinematic footage, and understand weddings days as well as being able to fit within the filming set up I was looking for. Ie deliver raw rushes and scale up to three shooters.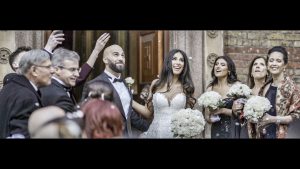 So tell us about the proposal:
This happened in November 2017. So just over a year ago. I had told her that a friend was doing an art exhibition in town and that I said I'd take a few pictures for him for Promo and that she should come.The day before she told me she was feeling ill and probably would give it a miss. On the day, still feeling under the weather she tried to pull out again, yet I told her I had the same as her and sometimes when you get out and about you feel better. Eventually I get her on a train into town, we go two stops and she says 'would you be mad if I got off here and just went home.' I just didn't respond…. But hey, we eventually get to South Kensington and she asks so where are we going and I respond with the back rooms of the Natural History Museum. This perks her interest a bit,she loves the Natural History Museum.So on getting there, the museum is shut. It's about 7pm after all so I explain to the lady at the gate that I'm there to take pictures of an exhibition and she takes us in. Straight into the main hall with the Blue Whale skeleton and you could hear a pin drop. Not a soul around. I ask the lady if she wouldn't mind if I took some pictures in the hall. She said it was ok. So I set my camera up on a tripod, aim it towards the epic staircase and set it to fire off every 2 seconds. Elena is having a little go at me telling me not to be rude by holding the lady up. But the lady says she'll go check on the exhibition and see if they're ready, leaving us completely alone. At this point I take my cue and walk up the stairs where Elena is now waiting, get down onto one knee, completely forget what I'd planned to say and ask her to marry me. She says yes. Phew. At this point I tell her I have other things planned but if she really is ill then I can just take her straight home. Turns out the illness is forgotten and now she is very much up for the activities ahead. Which were a fancy Mayfair Italian restaurant, then to Alexandra Palace for fireworks (which is one of her favourite things) and then to a suite at The Landmark Hotel, which is now where we are getting married. (the actual ceremony was at St Sophia's Greek Orthodox Cathedral)
Why did you pick this location:
The Landmark basically because it just matched our criteria better than other places we saw. Nice touch that we stayed their on our engagement night.We are aiming for classic, elegant and luxury. The dress code is Black Tie. But outside of the aesthetic we don't want it to be stuffy and will have a free bar,cracking 9 piece band and DJ to keep the party vibes flowing!